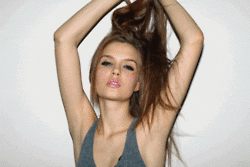 Sura Says...I am obsessed with this new concoction I have been using on my clients this month. First I do an Olaplex stand alone treatment for 10-20 mins. Just before I begin the blowdry portion of my client's service I then apply the Brazilian Blowout Split End Correction This seems to have magical powers over some really intensely damaged tresses. 
Olaplex allows for the hair to stay as strong as possible when experiencing a chemical service. BUT, it's not considered a conditioning treatment. THIS IS IMPORTANT. If your stylist is referring to it as such they are wrong and you should forward this blog to them ;) It can FEEL like a conditioning treatment for some people. You will be able to comb right through your hair without having used a conditioner. It leaves the hair that manageable. 
I will often times compound the treatment with Brazilian Blowout Split End Correction
 The 2 of these together basically repair the hair from the inside out (Olaplex) and the Split End Correction seals the ends of the cuticle closed. Allowing the cuticle to be it's strongest self. 
Come and see for yourself. Check out my website to get a complimentary Brazilian Blowout Correction SURA XX and get a complimentary Brazilian Split End Correction service with a booked hair service. 
Please reload